Summer Edge Musical Revue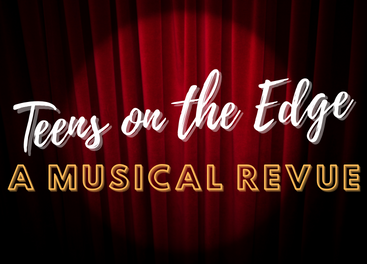 Back by popular demand! Our Summer Teen Musical Revue is built around you! No Broadway show is off limits! Once you register, email Sarah your favorite shows/songs and she will add them to our list of possibilities. Solo, duets/trios, chorus numbers – we're ready to do it all!
REGISTRATION
PLEASE READ OUR STANDARD AGREEMENT BEFORE REGISTERING
PROGRAM INFORMATION
GRADES
Open to performers entering grades 8-12 in fall 2022.
This program is open to performers of all experience levels.
VOCAL VIDEO SUBMISSION
This is a registration based program (there is no audition to participate). However, students will be asked to submit a video of themselves singing 32 bars of a musical theater song of their choice. This will help staff better select vocal features for each individual.
REHEARSAL / PERFORMANCE DATES
REHEARSALS
July 18th – 22nd and July 25th – 28th, 4 – 8pm @ Random Farms Studio
*Students are only called when they are needed at rehearsal. A detailed rehearsal schedule will be sent home in early July. 
TECH / DRESS REHEARSAL (Mandatory)
Friday, July 29 @ 3 – 6pm
PERFORMANCE (Mandatory)
Friday, July 29 @ 6pm
REHEARSAL LOCATION
Random Farms Studio
77 Executive Blvd
Elmsford, NY 10523
TECH REHEARSAL / PERFORMANCE LOCATION
The Manor Club
1023 Esplanade
Pelham, NY 10803
FEES & POLICIES
FINANCIAL COMMITMENT
$795 – Subsidized tuition
$1,325 – Actual cost
Did you know Random Farms is a non-profit and tuition only covers 60% of the cost of putting a child through the program?
Our subsidized tuition prices make participating affordable to a more diverse community. We ask families to choose the tuition tier they can afford on good faith; no application for the subsidized tuition is required.
Please consider paying the actual cost, and everything over the subsidized tuition amount will be a 

tax

-deductible 

donation

!  This will help support our outreach efforts, which include providing scholarships, discounted tickets, and free performances to those in need.
*Each registrant is also responsible for a $10 processing fee at the time of registration.
SCHOLARSHIPS
A limited number of financial aid packages are available. Please visit our Scholarship page for info and application.
PARTICIPATION POLICY
Please do not register if you have any conflicts. Absences and/or "shadowing" (making up a missed rehearsal) are not permitted during two-week programs. If your child misses a rehearsal (due to illness or otherwise), continuation in the program will be at the discretion of the Director.
COVID-19 SAFETY MEASURES
Beginning with our Spring 2022 programming, all rehearsals and performances will be mask-optional. While we will primarily rehearse indoors, the directing staff may choose to hold rehearsal outside our Elmsford studio. Random Farms reserves the right to make any performances/rehearsals mask-mandatory and/or require Covid-19 testing prior to performances should the need arise.
For the protection of your child, other children, and our staff, please do not bring your child to rehearsal if they are sick or have had a fever within the past 48 hours. If your child tests positive for Covid-19 or is tracked as having known exposure, please let us know.
PARTICIPATION IN MULTIPLE SUMMER PROGRAMS
It is physically possible to do both the Edge Revue and Summer Workshop Intensive programs. Please check the schedules do not conflict and consider your child's stamina if signing up for multiple programs, as we don't offer refunds. If you'd like to discuss your child's individual needs, you can email our Artistic Director.
QUESTIONS?
Program Questions: email sarah@randomfarms.com
Registration Questions: see our FAQs page or email us at registrationsupport@randomfarms.com