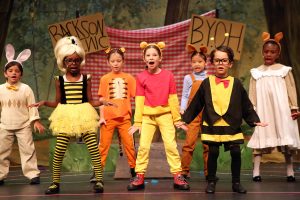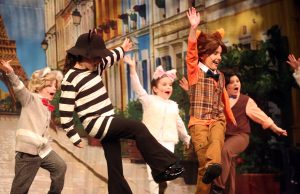 Just like the older kids' version of the Workshop, every child will get a part with speaking lines, a solo, and a terrific costume.
Kids perform in a musical, hone their skills and everyone gets a chance to shine. The goal is for children to obtain musical theater training while rehearsing for a show. The "process" – especially teamwork and self-esteem – is stressed as much as the "product" – a performance for family and friends.
PROGRAM INFORMATION
A different show is produced each season:  fall (Sept-Nov), winter (Jan-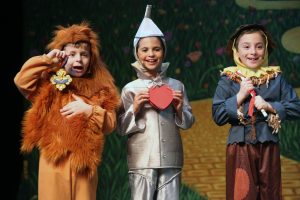 Mar) and spring (April-June).  Cast sizes are kept small.  Registration begins approximately 2-3 months before the program starts.  Tuition prices are listed on each show's page (click the show titles listed above). Make sure you join our email list so you get our monthly newsletter with registration start times, as this program often begins to sell out the night it opens.

View our Jellybeans program calendar here.
REGISTRATION
If you have questions about registration, please contact us at hello@randomfarms.com.  Click one of the shows above for a full schedule and to sign up.
PARTICIPATION POLICY
For sessions 2-9 at our Elmsford studio: each child is permitted one absence and 2 shadows (attending the same rehearsal with another group). Session 1 (role placement) does not count towards our attendance policy. Additional absences or shadows due to illness will be permitted solely at the discretion of the director.
For session 10 and 11 at the theater: Children are required to attend and participate in (and may not shadow, arrive late to, or leave early from) our two mandatory rehearsals. These rehearsals include the dress rehearsal (session 10), and the final dress/performance (session 11), all of which are marked as mandatory on the rehearsal schedule. Please make sure to double-check your child's schedule to ensure their availability for these mandatory rehearsals.
STANDARD AGREEMENT

Please be sure to read our Standard Agreement prior to registering.
REFUND POLICY
There are no refunds or credits.
QUESTIONS?
Program: artisticdirector@randomfarms.com
Registration: hello@randomfarms.com